Steve Harris was loved by all who knew him. Counselor, friend, husband and musician. So profound was his impact on the lives of those around him that 600 people showed up to bid him a final farewell when he died in December of 1999 of cancer.
An accomplished musician, Harris was part of a local band known as Boscoe, Carlos, and Ramone. "Steve was the one human being who touched on such a profound level," Pat Kelley, longtime friend, and band member said.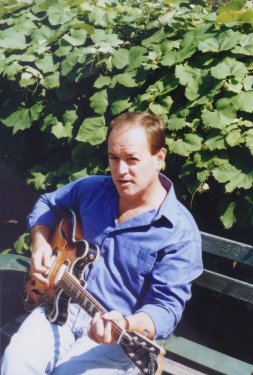 "There was never any judgement or hostility when Steve listened to you, just pure love. My friendship with him is a part of my life I wish were not gone."
Diagnosed with a gastroesphageal tumor in March 1999, Harris fought a long battle bravely.
"He'd probably had this tumor in his throat for about two or three years before he experienced any symptoms," Barbara Harris, Steve's widow, said. "By the time the cancer was discovered, it was very advanced".
The tumor was examined at the Mayo Clinic, who determined the cancer was too advanced to operate. The Harris' were sent home and Steve underwent chemotherapy and radiation treatment. But he didn't fight the battle alone.
"The staff at both Union Hospital Hux Cancer Center as well as Dr. Reddy and his staff were incredible", said Barbara Harris. "Dr. Reddy has a gift of humanity and generously shared it with us."
Dr. Chandra Reddy, hematologist and oncologist, was Harris' primary physician.
"Steve Harris was dear person," Reddy said. "He was an inspiration to myself, my staff, and other patients. He encouraged others to always fight to win the battle against cancer. He believed that fighting would help find a cure. Even though he knew he wouldn't benefit from it, he said it would be worthwhile knowing others would."
So strongly did Harris communicate his core value of fighting the good fight and helping others, that his wife and band members knew they had to donate the proceeds of the finished CD, Sin City to Wabash Valley Cancer Care Inc. "We always knew tht Steve would want this," Barbara